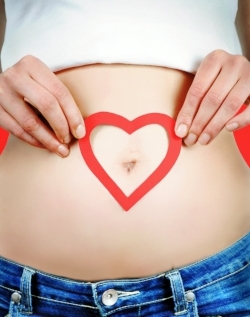 Get Relief from Digestive Issues
If you've experienced gas, bloating, abdominal pain, acid reflux, diarrhea, constipation (or a mix of both) it's time to learn your triggers and get control of your symptoms.
Gut health is also related to a host of other conditions such as allergies, anxiety, acne, autoimmune disease, brain fog, fatigue, headaches, hormonal health, weight imbalance and more.
As a clinical nutritionist taking a functional medicine approach, we learn the root cause of your symptoms for quick results & lasting relief.
It's time to say goodbye to short-term solutions and say hello to lasting, vibrant, whole body health!
"I am an ER doctor and a single mom with two kids. My busy lifestyle leaves me little time to care for myself. I was struggling with digestive issues, my energy levels and with weight gain. Sara worked with me to develop a plan that fit my life (and with my favorite foods). We made small, simple changes over time. I have to admit, I was a little skeptical that I would see results so quickly. In just a couple of weeks, my digestive symptoms were much improved. That really inspired and empowered me to keep going. It's been a few months and I now have more energy for my kids, my workouts and my job. I lost weight. My sleep has improved and I even get compliments on my skin!"
-- Dr. Michelle S., Chicago, IL
"I have had diarrhea and anxiety for over 20 years. I thought this was "normal" for me. It was when I was diagnosed with a cardiovascular condition I decided to make some changes to my diet. I had no idea that what I was eating and drinking was a major factor with so many of my health problems. Sara recommended small changes every few weeks. She kept me accountable and helped me stay motivated. It's been four months and I can't believe how much better I feel. My heart condition, digestion, sleep, energy and anxiety levels have improved tremendously. I no longer take sleeping aids or anxiety medication. Even my personal relationships have improved. A work colleague told me I was "glowing" (and I am a guy, LOL). I wish I made these changes sooner!"
-- JH, San Diego, CA
"Sara, is an absolutely incredible nutritionist. From our first consultation she gave me hope that I can get better. My medical issues are quite complex and confusing to doctors even, but Sara went above and beyond doing research, answering all my questions, and trying so hard to find me solutions. She is like an encyclopedia of knowledge and bases all of her suggestions on actual research. I wish all health professionals were as kind, compassionate and generous with their time. She'd never rush you at appointments and is always available for questions in between them. She's seriously one in a million and it was a blessing that I found her. Just having her support during a very difficult time was so comforting"
— BG, Plainview, NY
"Sara was very helpful during my initial treatment for SIBO & histamine intolerance. Although I was familiar with the diet, I was not familiar with the various supplements that were available in assisting in the healing of these disorders. Sara stays up-to-date on the new up-and-coming diets and supplemental treatments more so than any doctor that I've been to thus far! In addition to this, she is very diligent and happy to help- a lovely person & great experience working with her."
— DV, New York, NY
"Shortly after reaching out to Sara, she gave me a call and walked through all of my digestive issues and daily concerns. She was empathetic of everything I've gone through and immediately scheduled an in-person meeting to help me get my diet on track. Sara put together a comprehensive plan for me to reintroduce foods back into my diet that once bothered me. After just a short period of time, I began feeling much better! Sara is ALWAYS available for her clients and makes it very obvious how passionate she is about what she does."
— DA, New York, NY
"I have been working with Sara for a few months now. My goal was to fight inflammation and alleviate symptoms of autoimmune disease. Since then, I have been able to get off some of my medications and even lose a little weight. I am now symptom-free and feel great! Sara is extremely thorough and caring, always willing to share valuable information and resources – not only nutrition-wise, but for overall well-being. I would highly recommend Sara to anyone looking to improve nutrition, help autoimmune disease symptoms and relieve digestive issues."
— MR, New York, NY
"Sara Kahn has been working with me for the past seven months and the results have been life-changing. Changing my diet has dramatically improved my skin, digestion, asthma and energy levels. I thought that I had tried everything to have better skin and had resigned myself that by the age of 40 it was never going to get any better. I was amazed to find that I was wrong. My skin has been far clearer and more radiant than ever before. What is more, my energy levels have never been higher and more stable, my stomach feels much lighter and digestion feels way more efficient. I noticed that my lungs were stronger the first time I went swimming after changing my diet. As well as this, I've learnt to prepare much tastier and more satisfying meals. I'm over the moon with the results so far. Sara is a pleasure to work with. She's extremely organized, well informed and committed to her clients. I feel very well cared for. I've been recommending her to everybody I know!"
— CZ, London UK